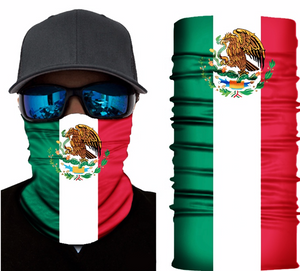 Mexico Flag Gaiter 2.0 (Sewn Edges)
Mexico gaiter by wearva 2.0 version
This style is guaranteed not to fade or shrink after entering the wash or dryer guaranteed! Unlike the competition this mask will not break the fibers and become all scratchy! This mask is guaranteed to be soft and silky smooth even on the roughest day! So this version is 100% soft to the feel with a silky finish. Edges are sewn, using string that stretches with the material, to prevent gaiter from sliding down and rolling up.
Waterproof, breathable, UV and wind resistant, our gaiters can be worn for any fast-moving outdoor sport, like:
Motorcycle Riding
Sailing
ATVing
Mountain Biking
Snowboarding
Fishing

(Basically anything that's outdoor - you'll want a High Quality Gaiter.)
 You can wear it in 7 different ways! Wearva Designs can be worn as:
Bandanas
Neck Gaiters
Wristbands
Beanies
Headbands
Hair Ties
Designed to last, Wearva Gaiter are made from 100% polyester microfiber, protecting your face from the sun (SPF 40), wind, cold, and insects. Moisture wicking, fast drying, and stain resistant, the material is breathable which means they're comfortable to wear as long as you need.
Hundreds of ⭐️⭐️⭐️⭐️⭐️ reviews received for our fast shipping! Find us on facebook as well and look for your self @wearvabrand
Proving The Doubters !
 


Click "Add to Cart" Now!

Pattern Type: Print
Material: Polyester
Style: Active

;

;

;